Maytag Washer Types 1907-1917
On this page you will view just a few of the very early washers that Maytag manufactured.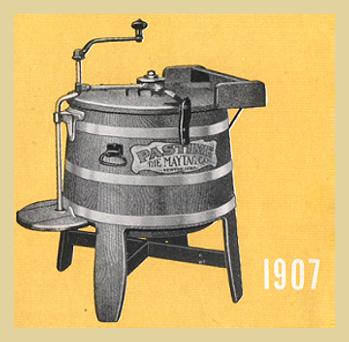 The First Maytag Washer Built In 1907
This Maytag was called the PASTIME. The wood used in the manufacture of this washer was cypress. The interior of the wood tub was grooved deeply to simulate the washboard. The washer was engaged by turning a handle at the top. This handle was connected to a flywheel at the bottom of the wood tub. This washer was very popular with the housewife at that time.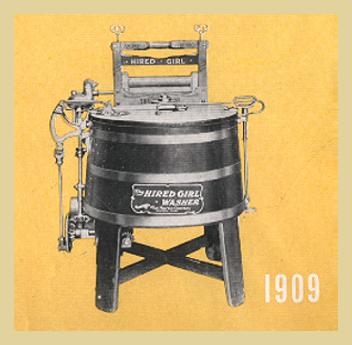 Maytag Wood Tub Washer Built In 1909
This washer was called the Hired Girl. It was built in 1909. It was the first Maytag washer that was powered by an engine. A pulley mechanism was added so you could operate from a belt and external engine. The wringer was also added on this model. The wringer was power driven.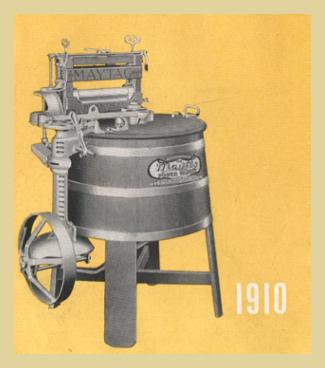 Maytag Wood Tub Washer Built In 1910
One of the greatest improvements to this Maytag washer was the swinging reversible wringer. No longer did the housewife have to move the heavy tubs of water to the wringer. The wringer would now swing into position over the rinse tub. This was a great step forward in the improvement of the Maytag washer.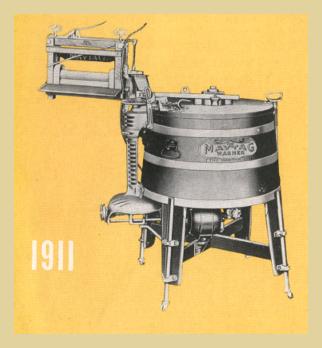 Maytag Washer With Electric Power
In 1911 The Maytag washer entered the home with electric power. Now the houswife could perform other tasks while the clothes washed themselves. The dream of an easier washday became a reality.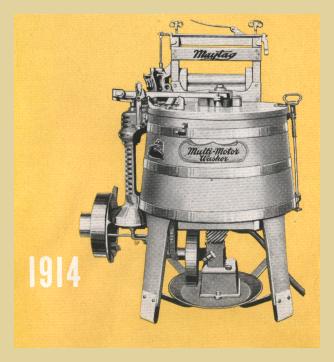 The First Wood Tub Maytag With Gasoline Power
The demand for the Maytag washer was also great in the small towns and rural areas. Mr. Maytag found a small gas engine to power his famous Maytag washer. This engine was called the Multi-Motor. It was a one-half horsepower engine and was attached to the washer much the same as the electric motor. This washer was sold to over one million users. Maytag was the largest manufacturer of this type of gas engine.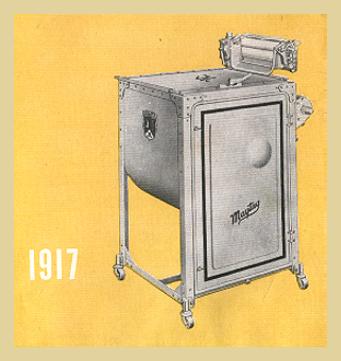 Maytag Cylinder Type Washer
In 1917 this cylinder type washer was built. It used a cast aluminum cylinder to wash clothes with the mill race principle. This was patterned after the old mill race wheel. Projections or scoops on the outside of a revolving cylinder forced water through the tumbling clothes. This model was the first for the divided wringer. The tension release was a welcome safety feature.